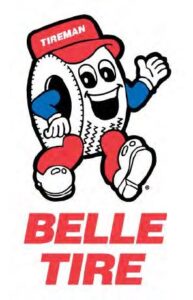 Belle Tire is excited to offer up to ten $2,500 annual scholarships to employees who are choosing an automotive career path!
Any active Belle Tire employee who is attending an ASE Education Foundation certified post-secondary automotive training program is eligible for one of these awards. Eligible students must apply online at this site and notify Belle Tire Human Resources of their application to be considered for a scholarship.
An added benefit to applicants is that Belle Tire is one of more than thirty other organizations and donors who also award scholarships to students who apply at this site. Each student's complete application will be considered by every organization where they meet that group's qualifications.
To qualify for one of the Belle Tire scholarships, please complete the following steps:
Apply online at this site, by clicking on the "Apply now" button on this page prior to March 31st.
Upon completion of the application, notify Belle Tire Human Resources at HR@belletire.com indicating your full name, store number and the school you are attending. 
Please put Belle Tire in the sponsor section of the application.
Thinking about an automotive aftermarket career? Good choice! Servicing or supplying parts for vehicle maintenance and repair can be a rewarding career. An automotive scholarship can help pave the way.
Support the aftermarket technicians of the automotive future